Internet Password Recovery Toolbox helps you recover all email, internet, browser, messenger, FTP, LAN and dial-up passwords stored in your system, even if you don't know whether or not they are here! The program is 100% automatic, so all you need to do is to launch the application – all passwords to websites, e-mail accounts and instant messengers will be right on the screen then. Instantly!



Download
Password recovery solution for Web-related applications
The whole world goes online today. Thousands of website require some kind of authentication or simply login. The more you surf, the more user names and passwords you have to keep or memorize. Browsers, e-mail clients, online games, instant messengers, social network widgets, various cloud-based productivity tools – all these options can suddenly become inaccessible if you lose or forget corresponding passwords.
Surely, many services have the "I forgot my password" form, but some Internet passwords cannot be recovered this way, not to say about time needed to recover passwords one by one. Internet Password Recovery Toolbox easily resolves the forgotten password problem by restoring all and every Internet passwords at once! Regardless of the aspect of your internet activity, you can rest assured the password to almost any internet application isn't lost forever. It is only matter of seconds for Internet Password Recovery Toolbox to bring it next to your eyes again.
Even better, the process takes merely a blink. Once you run the tool it recovers anything it could find saving your time. Thanks to the polished interface and reliable operation, Internet Password Recovery Toolbox is one of the simplest Internet password crackers on the market. Add it to your arsenal and never worry about forgotten passwords anymore!
Related Software
Office Password Recovery Toolbox
Outlook Password Recovery Master
Internet Explorer Password Recovery Master
Outlook Express Password Recovery Master
Dial-up Password Recovery Master
FTP Password Recovery Master
Instant Messengers Password Recovery Master
Email Password Recovery Master
Opera Password Recovery Master
Firefox Password Recovery Master

Features and benefits
Recovers passwords for Internet Browsers: Internet Explorer, Mozilla Firefox, Google Chrome, Opera.
Provides password recovery for IMs: Trillian, Miranda, Pidgin / GAIM, Paltalk.
Supports all popular Email Clients: Windows Mail, Windows Live Mail, Outlook, Outlook Express, The Bat!, Becky, PocoMail, Mozilla Thunderbird, Forte Agent.
Password recovery for FTP Clients: CuteFTP, FlashFXP, SmartFTP, BulletProof FTP, Total Commander, Far Manager, WS_FTP, FileZilla, FTP Commander, TurboFTP, FFFTP, Core FTP, FTP Explorer, Directory Opus.
Recovers Network and Dial-up account passwords. Crack logins and password both for internet access and for LAN. Retrieves Network and Dial-up passwords for ALL the users of Windows 2000/XP/Vista/7/8;
Instant password recovery.
Master password restricts unauthorized access.
Export restored passwords to a text file or copy to clipboard.
Apparent UI.
How to recover lost Internet passwords
Recovering lost internet password with Internet Password Recovery Toolbox is so easy that it may even be confusing for the first time. Literally all you need to recover all Internet passwords your computer stores, is to run the program. That's it! Just run it. The tool automatically scans your system for few seconds and extracts all passwords for any Web-related applications.
All passwords recovered this way are grouped together, so you can look at and restore passwords for any given application.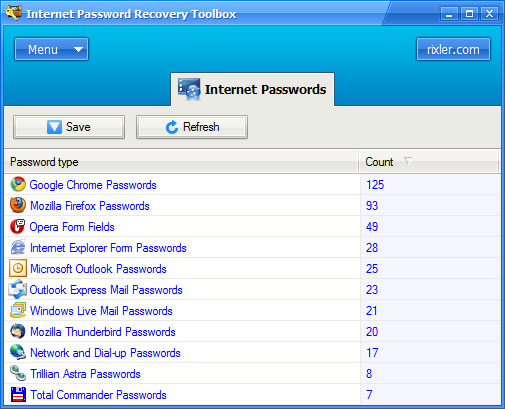 Click the Save button to save restored passwords to a text file, or click any given category to open the list of passwords stored by this application. For instance, let's click on Internet Explorer passwords. The window changes and displays all login data ever typed and saved by Internet Explorer.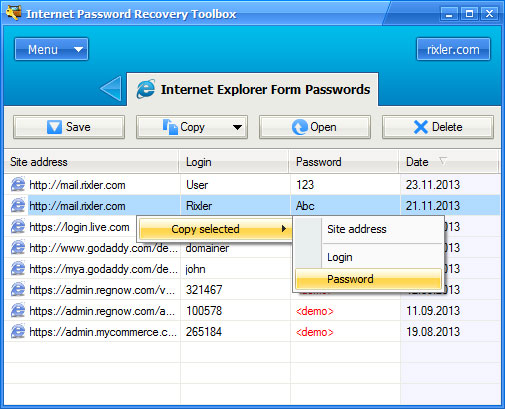 You can copy website URL, login or password to the clipboard by right-clicking a site in the list. Toolbar buttons allow you to export password from this category to a text file or to the clipboard. Note that you can also delete passwords if you don't want this application to store them anymore.
To return to the list of passwords, click the back button next the tab name.
System requirements
Windows NT / 2000 / XP / 2003 / Vista / 7 / 8.
Recovering network and dial-up passwords requires administrator privileges.