Over 150 billions of e-mail messages are sent worldwide every day. We send and receive e-mails for business and for fun, for education and for talks. We also receive many confirmation e-mails holding our passwords, authorization data, special offers and important reminders. Whether you use a software e-mail client, or prefer one of popular online e-mail accounts, losing a password to your mailbox would be a disaster! Not only you suddenly have no access to your conversations, you may potentially lose much more important data: login data to various websites, social network passwords, private information you wouldn't want to share and so on.
Related Software
Internet Password Recovery Toolbox

Features and benefits
Instantly recovers passwords to your mailboxes
Supports passwords of any length and complexity.
You can recover e-mail passwords in the following software email clients: Windows Live Mail, Mozilla Thunderbird, Outlook, Outlook Express, The Bat!, Becky, PocoMail, Forte Agent.
You can also restore e-mail account passwords in all popular browsers including Internet Explorer, Google Chrome, Mozilla Firefox, Opera.
Easily copy the restored password to the clipboard or save all of recovered passwords to a text file
Assign a supervisor password to block unauthorized access to password recovery functions.
Laconic interface for extreme user friendliness.
Password recovery for Email clients
Email Password Recovery Master can restore access to all of your mailboxes in popular e-mail clients in several minutes. Indeed, the process is absolutely easy and intuitive. The program scans the system for installed e-mail software, parses its configurations and recovers all passwords found.
Basically, in most cases you should merely run the program to get your lost e-mail passwords back! After that you can either save them to an external file, or copy a given password to the clipboard to immediately login to your account.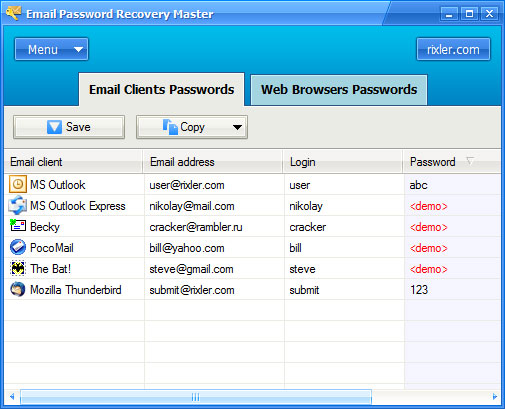 The program supports such popular e-mail clients as Outlook and Outlook Express, Mozilla Thunderbird, The Bat!, Becky and others. Whatever your e-mail client is, and whatever type of the mail protocol you use (POP3/SMTP or IMAP), Email Password Recovery Master instantly solves the issue!
Password recovery for Web browsers
Many users prefer web mail clients to deal with upcoming messages. Indeed, plenty of free space, convenient filters and built-in anti-spam options make online web clients very competitive and de facto preferable today. Email Password Recovery Master helps you retain the access to your mailbox if you have forgotten a password.
In particular, the program scans the system for installed browsers and stored passwords to e-mail services like Mail.com, live.com, Google Mail and instantly recovers them. The process as simple as running an app: once you launch Email Password Recovery Master and switch to the Web Browser Passwords tab, you'll find all the available passwords already restored and listed on the screen. This literally takes few seconds!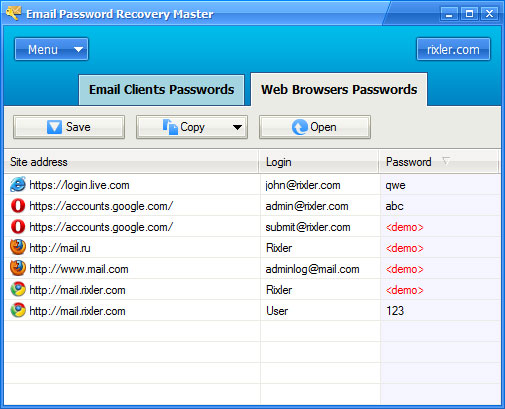 Like with local e-mail client passwords, you can copy the recovered authorization data to the clipboard or save them to a file. Also, you can open the link and try logging in with the recovered password right away.
System requirements
The program runs under Windows 2000 / XP / 2003 / Vista / 7 / 8.
Supports mostly all versions of email clients and web browsers.