Outlook is certainly one of the most popular e-mail clients and personal information manager today. The more critical becomes loosing passwords to Outlook e-mail account. Meet Outlook Password Recovery Master – a devoted MS Outlook password cracker to bring lost and forgotten passwords back to you!
The tool analyzes Personal Folders files (PST files) and cracks all passwords in them without any hassle. Since those files contain not only messages, but also personal information and contacts, retrieving a password faster is a huge relief. And the program delivers almost instant recovery! The straightforward interface helps cracking Outlook PST passwords as well as mailbox passwords in literally one click.
Related Software
Office Password Recovery Toolbox
Internet Password Recovery Toolbox
Outlook Express Password Recovery Master

Features and benefits
Quickly recovers Outlook 97/2000/XP/2003/2007/2010/2013 PST passwords and mail passwords.
100% automatic recovery.
Retrieves parameters: SMTP settings, login, password, e-mail address.
Copy recovered passwords to the clipboard or save them all to a file.
Find all password-protected Personal Folders files (PST) and recover passwords instantly.
Straightforward interface.
Password recovery can be protected with a master password.
Password recovery for MS Outlook e-mail accounts
Trying to remember your password to Outlook? Mail password recovery saves the day! Try Outlook Password Recovery Master and enjoy immediate, simple and totally effective password recovery. Here is how it works. You run the tool, switch to the Mail passwords tab, and… that's all! Really. Your passwords are already there. We mean it. It is that simple. Go and copy those passwords to the clipboard. And if you don't want anyone else see your passwords the same easy way, set a master password to protect access to Outlook Password Recovery Master.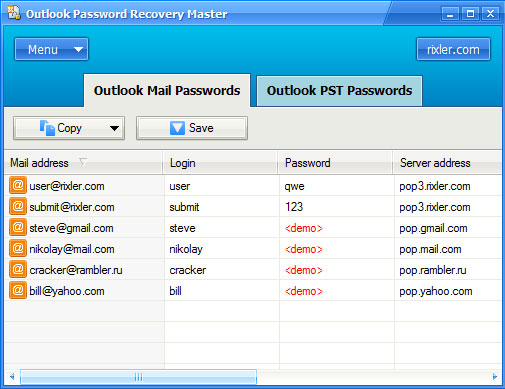 Note that you can also save recovered Outlook passwords to an external file.
Password recovery for MS Outlook PST files
We hate to say this worn-out phrase, but Outlook Password Recovery Master is extremely easy to use. Outlook PST password recovery has never been easier. In just one run, the program restores the security password of a PST file, as well as passwords to individual mailboxes if you happen to have a few. The app works with any Outlook version including 97/2000/XP/2003/2007/2010/2013. Being absolutely intuitive, it quickly bring control over Outlook Personal Folders back to you, and you don't have to be a hacker!
Moreover, with the powerful search function, the app quickly finds all recoverable passwords on your computer – even before you ask it to.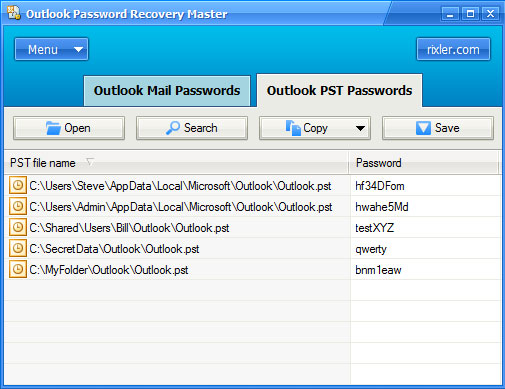 Stylish, simple and super fast, Outlook Password Recovery Master serves its purpose very well. Try it and enjoy your mailboxes available to you again!
System requirements
Windows NT / 2000 / XP / 2003 / Vista / 7 / 8.
The program supports MS Outlook 97 / 2000 / XP / 2003 / 2007 / 2010 / 2013.