Internet Explorer Password Recovery Master is a password recovery software for viewing and cleaning the secret data stored by Internet Explorer. This includes managing passwords for protected sites, user passwords on forms and autocomplete data strings. The program also provides a simple solution for transferring this information from one computer to another.



Download
Overview
If you use Internet, chances are you have over a dozen logins and passwords. Couple for e-mails, few more for online shops, one or two for a newspaper or a magazine subscription, bank accounts and so forth. Plus, there are web forms, shipping and billing addresses, credit card numbers and much, much more. Internet Explorer Password Recovery Master is a simple software application that provides an easy way to manage and protect this information. And you can recover and restore ANY lost or forgotten password ever entered in Internet Explorer.
Lost and forgotten passwords are a familiar issue to most Internet users. That's why Internet Explorer Password Recovery Master displays Site, User, and Content Advisor passwords as well as Autocomplete data strings. More importantly, the software provides a simple solution for removing or transferring this information. This comes in very handy when you get another computer or move to another workstation and do not want to spend hours to manually restore your passwords, nor want the person who gets your old computer access your private data. With Internet Explorer Password Recovery Master you can delete all passwords at once, as well as transfer them to a new system.
Related Software
Internet Password Recovery Toolbox
Opera Password Recovery Master
Firefox Password Recovery Master

Features and benefits
Browsing through and deleting protected site passwords (HTTP, HTTPS, FTP) and user passwords for HTML forms (form passwords) stored by Internet Explorer.
Managing autocomplete data strings (credit cards numbers, personal data, search requests, etc) saved in Internet Explorer.
Removes and restores Content Advisor Password.
Exports the autocomplete data and passwords into a formatted text file.
Imports Internet Explorer autocomplete data and passwords from a file into Protected Storage.
Displays the time when user passwords and autocomplete strings were entered.
Allows to open protected sites by automatically entering user login and password.
Allows to set the access password to prevent unauthorized program execution.
Allows to copy retrieved information to clipboard.
Simple and user-friendly interface.
User interface
The main window of the program contains four tabs:
When the program starts, it extracts the secret data from Internet Explorer and displays it in the tabs described above. Therefore, you can get all this information immediately.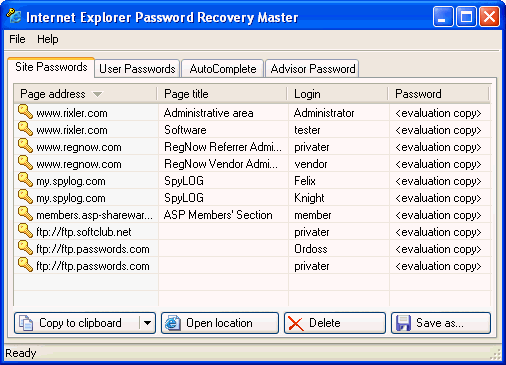 ´
Passwords and autocomplete data export / Import
You can save all the passwords and autocomplete data stored by Internet Explorer into a file and then restore them at any time. It might be necessary when you want to reinstall Windows or migrate from one version of Windows to another. This operation allows you to avoid repeated typing of logins, passwords and other autocomplete strings, which you have already entered before.
System requirements
Windows 9x, ME, NT 4.0, 2000, XP, 2003, Vista, Seven, 8.
The program supports Internet Explorer 5.x, 6.x, 7.x, 8.x, 9.x, 10.x, 11.x .