Chrome Password Recovery Master is a program that displays logins and passwords for protected sites stored by Google Chrome browser.



Download
Overview
Chrome Password Recovery Master is a program enabling you to retrieve your login data stored by Google Chrome web browser. An easy-to-use password recovery solution, the software extracts user names and passwords and displays them in a user-friendly format.
Being one of the most popular web browsers, Google Chrome provides some handy features to save your time and effort, which include storing your login data. Developed to spare you the trouble of re-typing username and password every time you visit the website, it can actually get you trapped if you need to extract this information for some reason. Sometimes you can reset a password; however, it's not always an option, especially if you can't remember the answer to your security question or just want to keep your old password. Chrome Password Recovery Master provides the quick way out of this seeming dead end, allowing you to enjoy the convenience of storing your password and retrieve it when you need it.
The software enables you to instantly recover your logins and passwords stored in Google Chrome. No matter how strong a password is, Chrome Password Recovery Master will restore it so that you could use it for another browser or app, or on a different computer. Thanks to multilingual password support you'll be able to regain access to login data in any language. Retrieved login data (including website addresses) is stored in a formatted text file and can be copied to clipboard. To make sure that your precious data don't end up in wrong hands, you can set access password to prevent unauthorized program execution.
Related Software
Internet Password Recovery Toolbox
Facebook Password Recovery Master

Features and benefits
Recovers passwords for protected sites stored by Google Chrome browser;
Instant recovery of site passwords of any length and complexity;
Support for multilingual passwords;
Allows to set the access password to prevent unauthorized program running;
Stores retrieved information in a formatted text file;
Allows to copy retrieved information to clipboard;
Easy and user-friendly interface.
User interface
When you run the program, it retrieves all logins and passwords for protected sites, and shows them in the Google Chrome Passwords list. So, by running the program you can get all retrieved information immediately.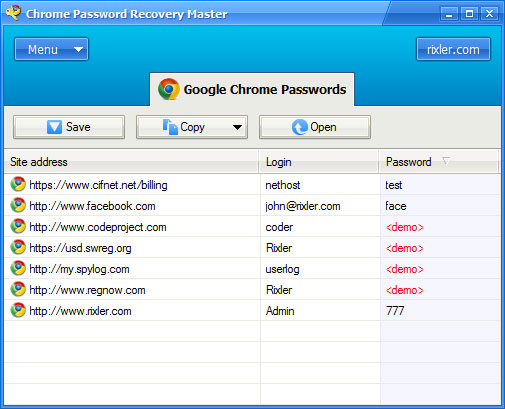 System requirements
Windows 9x, ME, 2000, XP, 2003, Vista, Seven..
The program supports Chrome v5.x, v6.x, v7.x, v8.x