Facebook Password Recovery Master recover lost or forgotten Facebook logins and passwords stored in an Internet Explorer, Firefox, Chrome or Opera browser. Just run the program to get the list of all the logins and passwords for the Facebook accounts lost in your computer.



Download
Overview
Without a valid password, you cannot exchange messages with your old and new friends, find out what's new in their lives or tell them something important. You also cannot participate in your favorite common interest groups and do other interesting things over Facebook. How can you recover your Facebook password if you have forgotten it and are unable to reset it for one or the other reason? - Take advantage of this simple fix!
Facebook Password Recovery Master instantly recovers lost Facebook logins and passwords stored in an Internet Explorer, Firefox, Chrome or Opera browser. All it takes to recover all the lost passwords at once is to run the recovery master; that's it. The program automatically retrieves all the logins and passwords for the Facebook website that got lost in your computer, regardless of their length and complexity, and lists them on the screen. You can click on one or several entries and copy those to clipboard, open the Facebook login page in the corresponding web browser or export the recovered data to a formatted text file. To prevent unauthorized access to sensitive data, the software can be password-protected from unauthorized use; this way, it will prompt you for the access password every time you run it and won't allow unauthorized users to use it.
Facebook Password Recovery Master allows to recover passwords typed with both English and national characters, as well as combinations of those, and demonstrates stable work under all versions of Windows, beginning with as old as 9x and going through the latest Windows 7. Supports the latest versions of Internet Explorer, Mozilla Firefox, Google Chrome, and Opera browsers.
Related Software
Internet Explorer Password Recovery Master
Opera Password Recovery Master
Firefox Password Recovery Master

Features and benefits
Recovers Facebook passwords stored by Internet Explorer, Mozilla Firefox, Google Chrome, Opera.
Instant recovery of Facebook passwords of any length and complexity.
Support for multilingual passwords.
Stores retrieved information in a formatted text file.
Allows to copy recovered logins and passwords to clipboard.
Allows to set the access password to prevent unauthorized program running.
Easy and user-friendly interface.
User interface
When you run the program, it retrieves all logins and passwords for the Facebook accounts ( http://www.facebook.com), and shows them in the Facebook Passwords list. So, by running the program you can get all retrieved information immediately.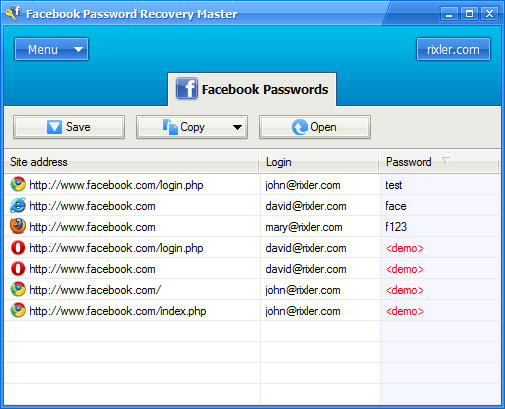 System requirements
Windows 9x, ME, NT, 2000, XP, 2003, Vista, 7, 8.
The program supports the latest versions of Internet Explorer, Mozilla Firefox, Google Chrome and Opera browsers.