Office Password Recovery Toolbox is a comprehensive solution for recovering MS Word, Excel, Outlook, Access, PowerPoint and VBA passwords.


Download
Overview
To protect privacy and limit access to sensitive information, MS Office provides different types of protection. Whether it is 'open', 'write', or any other protection, a password is its key element. Without it, access to the most sensitive and important data is impossible. What can we do then, if a password to a Word, PowerPoint or Excel document, Access database or Outlook folder is lost or accidentally changed? Does it mean that the data is gone forever? Office Password Recovery Toolbox is a solution that can recover passwords in those and many other cases. The program swiftly recovers passwords for MS Word, PowerPoint, Excel, Access and Outlook files. Its amazing performance is grounded on the expert knowledge of Office protection and the use of a powerful decrypting server. Both these components working together ensure fast and secure recovery of virtually any password.
Office Password Recovery Toolbox can recover passwords that fall into any one of six categories – Word Passwords, Excel Passwords, Outlook Passwords, PowerPoint Passwords, Access Passwords, VBA Passwords.
A Short Guide to Rixler's Office Password recovery software.
Thank you very much for your product! It worked.
Constance L. Hunter
Managing Partner, CIO
Coronat Capital Management, LP
New York
Related Software
Word Password Recovery Master
Excel Password Recovery Master
Outlook Password Recovery Master
Access Password Recovery Master
VBA Password Recovery Master
Office Multi-document Password Cracker

Features and benefits
Recovers or removes "open", "write" and "protection" passwords for Microsoft Word documents [1].
Recovers or removes "open", "write", workbook, shared workbook and worksheet passwords for MS Excel documents [1].
Removes "write" passwords for MS PowerPoint 2007 documents.
Recovers passwords for the MS Outlook personal folder files (*.PST).
Recovers passwords for MS Access database files (*.MDB) and workgroup information files (*.MDW).
Recovers passwords for VBA projects in MS Word, Excel, PowerPoint and Outlook files.
Online password recovery service with guaranteed privacy.
Instant recovery of passwords of any length and complexity.
Support for multilingual passwords.
Allows to set the access password to prevent unauthorized program running.
Allows to copy recovered passwords to the clipboard.
Easy and user-friendly interface.
User interface
You can open a password protected document using either the File -> Open File... menu item or the button on the right of the document name editbox. You can also select a recently used file from the combobox. After you select a particular document, the program will change its view and you will be able to see all passwords stored in the document.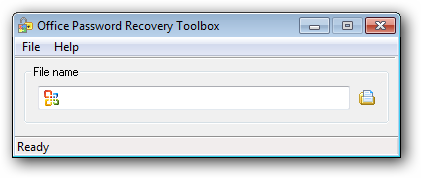 System requirements
Windows 9x / ME / NT / 2000 / XP / 2003 / Vista / Seven.
Support for files created in MS Word and Excel 97 / 2000 / XP / 2003 / 2007 / 2010.
Support for files created in MS PowerPoint 2007.
Support for files created in MS Outlook and Access 97 / 2000 / XP / 2003.
Decryption for documents created in MS Word and Excel 97 / 2000 / XP / 2003 and protected with the standard method (compatible with Office 97/2000).
Recovers VBA project passwords for MS Word, Excel and Outlook 97 / 2000 / XP / 2003 files.
The program cannot process documents encrypted with nonstandard CSP (it is possible to select a CSP in Microsoft Office XP / 2003) and documents created in the French version of MS Word or Excel 97.