VBA Password Recovery Master is a program that helps the user to recover lost VBA project password for Microsoft Word, Excel and PowerPoint documents and for Outlook OTM files.


Download
Overview
VBA Password Recovery Master ensures that your VBA projects are accessible at all times despite everything. Whether a loss or unexpected change of a password occurred to VBA projects in Microsoft Word, Excel, PowerPoint or Outlook, users can be sure of the projects' accessibility. The program swiftly recovers vba passwords of any length and complexity. You can always rely on its expert knowledge of MS Office protection and secure access to VBA projects.
The program does all the work of password recovery in the automatic mode. The only thing it needs from the user is the location of the protected file. Upon recovery, the user gets a password that opens their VBA project and makes the source code accessible again. Now with a single mouse click you can copy the password to the clipboard and store in a safe place. The reliable and robust recovery engine, ease of use and clear interface make VBA Password Recovery Master an ideal tool to solve VBA project accessibility problems.
Related Software
Word Password Recovery Master
Excel Password Recovery Master
Outlook Password Recovery Master
Office Password Recovery Toolbox

Features and benefits
Recovers VBA password for Microsoft Word, Excel, PowerPoint and Outlook files.

Supports all versions of Microsoft Word, Excel, Outlook and PowerPoint 2007

Instant recovery of vba passwords of any length and complexity.

Allows to copy recovered vba password to the clipboard.

Simple and intuitive interface.
User interface
VBA Password Recovery Master automatically recovers VBA password when you open the file containing password protected VBA project. To open the document, click on the icon on the right part of the program window and indicate the required file.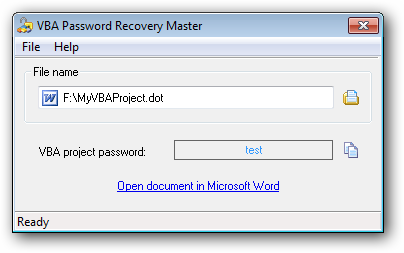 System requirements
Windows 9x / ME / NT / 2000 / XP / 2003 / Vista / Seven

The program supports all versions of Microsoft Word, Excel, Outlook and Microsoft PowerPoint 2007