VBA Password Recovery Master does what the name says: give it a bunch of Microsoft Office documents (Word, Excel, PowerPoint and Outlook are supported) and it will immediately display all VBA project passwords on the screen. Thanks to the absolutely apparent interface of the tool, even a baby can handle the recovery task. And the automatic search for protected documents and instant copying of cracked passwords make it even easier.



Download
Instantly restore forgotten VBA project passwords
When you want to bring additional functionality to your MS Office documents, like adding messages, dialog boxes or if you want to perform some complex processing of the text, VBA (Visual Basic for Applications) is what you can use to implement all of these and even more. And just like any Microsoft Office document, VBA project can be locked with a password. Aside from additional security and protection from unauthorized modification of the source code, this gives birth to another issue – if you lose your password, the source code will become unavailable to you too.
To recover lost passwords to VBA projects in Excel, Word, PowerPoint, and Outlook documents, use VBA Password Recovery Master. This tiny tool just takes a document (or even a batch of them) and immediately recovers all VBA-project passwords inside! The recovery process is absolutely safe, secure and reliable, so whenever you forget a password to VBA application, don't blame yourself, just let VBA Password Recovery Master fix the problem.
Related Software
Word Password Recovery Master
Excel Password Recovery Master
Outlook Password Recovery Master
Office Password Recovery Toolbox

Why VBA Password Recovery Master?
It can instantly crack VBA project passwords in Word, Excel, PowerPoint and Outlook documents.
It supports all major versions of Microsoft Office tools: MS Word, MS Excel, MS Outlook 97/2000/XP/2003/2007/2010/2013, MS PowerPoint 2007/2010/2013.
Thanks to the auto-search feature, you can quickly locate multiple MS Office documents containing a password-protected VBA code and recover all passwords in them.
100% reliable and guaranteed password recovery solution for VBA projects.
Copy restored passwords to the clipboard.
Extremely easy to use interface is specially designed to restore lost VBA passwords with minimum hassle.
How to recover VBA password using VBA Password Recovery Master
Upon startup you can either open a particular Microsoft Office document of any supported type, or perform a search through your local disk to locate all documents that have VBA projects. Clicking the Crack button on the toolbar instantly gets all those VBA project passwords recovered; you won't even notice the process!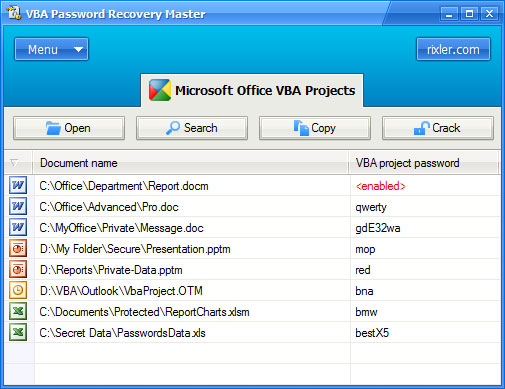 Once you see the passwords on the screen, you can copy any of them to the clipboard to unlock the desired VBA project.
Note that along with searching through the specified location, VBA Password Recovery Master can quickly scan the contents of the Recent Documents folder and display all password protected VBA applications in there.
Supported MS Office versions
VBA Password Recovery Master supports recovery of VBA project passwords in the following Microsoft Office applications:
| | |
| --- | --- |
| MS Office Application | Supported Version |
| MS Word | 97/2000/XP/2003/2007/2010/2013 |
| MS Excel | 97/2000/XP/2003/2007/2010/2013 |
| MS PowerPoint | 2007/2010/2013 |
| MS Outlook | 97/2000/XP/2003/2007/2010/2013 |
MS PowerPoint is only supported since version 2007.