User names and passwords on forms
To get the access to the e-mail or the personal site options through the Web interface it is necessary to enter the user login and password into the HTML form, located on the site. Such passwords are called user passwords. Internet Explorer has a special option, which helps the user to avoid typing logins and passwords every time he wants to get the service.
(*) Such option is called User names and passwords on forms and located on the AutoComplete Settings dialog box. To display the dialog box you are to launch Internet Explorer, select Tools > Internet Options > Contents and then press the Autocomplete button.
In case this option is enabled, all the user passwords stored by Internet Explorer could be seen on the User Passwords tab: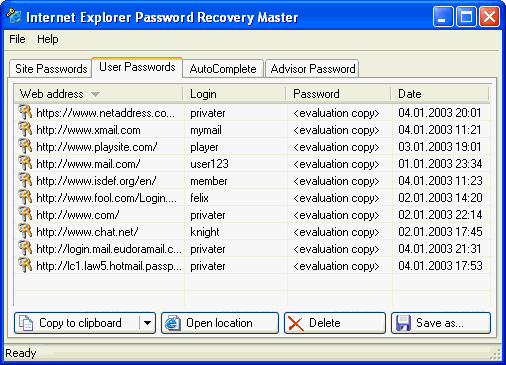 Beside the login and password you can also see the Web address of the corresponding site and the time when the password was entered.
In the "User names and passwords on forms" chat, forum, e-mail passwords and other kinds of user passwords can be saved.