Passware ZIP Password Recovery helps to recover lost passwords for ZIP archives. It supports a number of exclusive attacks to beat zip passwords. The use of undocumented features of ZIP files provide you with a great time reduction while searching the password.



Download
Recover Zip password if you have lost it
Today Passware ZIP Password Recovery provides probably the most complete set of attacks for recovering passwords to Zip archives. It includes the standard Brute-Force and Dictionary attacks as well as some additional types of attacks: "Plain-text attack", "Guaranteed attack", "False-type attack", "Template attack" and "Multi-computer brute-force attack". Besides, the search rate for all types of attacks is very high, especially on Intel platforms. But the most interesting thing is the original solution – "Automatic mode". When this mode is selected, Passware ZIP Password Recovery selects the optimal strategy for the password search, alternates various types of attacks with various settings to find the valid password. In 90% of all cases the actual password will be found within several dozens of minutes after the beginning of an attack. But if you are not lucky, do not give up and try other types of attacks.
Features and benefits
The program is smart enough to not give you "wrong" matches, as many other do. If it says that the password is here, then it really is.
High speed of work.
The wordlist mounting to 450,000 real English words.
Ability to operate in the background.
Ability to check passwords manually.
Heuristic analysis.
Interrupting the program at any time and resuming its execution later from the same point
User friendly interface.
Customizability. You can set the password length (or length range) and the set of characters to be used to generate the passwords.
Equally high speed for any amount of files in the archive.
Various types of attacks
User interface
To start recover the Zip password you need to open Zip archive file (*.zip or *.exe) using the "Open zip/exe" button, and click the "Go" button, Passware ZIP Password Recovery will start the password search in automatic mode.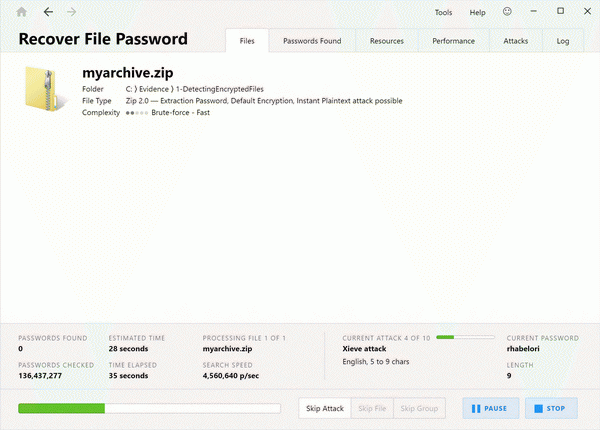 System requirements
Windows 9x / ME / NT / 2000 / XP / 2003 and Windows 7, 8, 10
The program was completely tested with all types of ZIP files.