Access Password Recovery Master is a program that helps the user to recover lost or forgotten passwords for MS Access database files (*.MDB) and user-level passwords stored in the workgroup information file (*.MDW).



Download
Overview
MS Access is one of the most popular database programs used in millions of offices worldwide. Password protection is an important feature that limits access to authorized personnel only and prevents strangers from obtaining confidential data. Unfortunately, people do lose or forget their passwords, making it impossible to access that data. Luckily, it does not mean that the data is lost forever.
Access Password Recovery Master does exactly what the name says – recovers passwords for protected MS Access databases. The program recovers MDB passwords for the MS Access documents and user-level passwords for the workgroup information files (*.mdw). The software automatically finds recently accessed *.mdb files and, if it is password protected, displays file name and the password for it. User-level passwords from workgroup information files (*.mdw) are restored in a similar manner. The software is extremely simple. The retrieved information can be stored in the formatted text file or copied to clipboard. Importantly, the program is capable of recovering passwords containing non-English characters as well – a feature that not all password recovery applications offer.
Related Software
Office Password Recovery Toolbox

Features and benefits
All versions of MS Access are supported (including MS Access 2003).

Recovers passwords for MS Access database files (*.MDB).

Recovers user-level passwords stored in the workgroup information files (*.MDW).

Multilingual passwords are supported.

All passwords recovered instantly.

Stores retrieved information in a formatted text file.

Allows to copy recovered passwords to clipboard.

Easy and user-friendly interface.
User interface
The main window of the program containes two tabs having the following titles:
MDB Files Passwords - displayes Microsoft Access database passwords (passwords for the *.mdb files);

User-level Passwords - displayes names of MS Access users and their passwords.
When the program starts, it tries to find recent MDB files opened in the Microsoft Access by scaning the system registry. If the found file is protected with a password, the program shows it in its main window, on the first tab. On the second tab the program shows the names of the MS Access users and their passwords retrieved from the default workgroup information file. So, when running the program you can see all the information retrieved.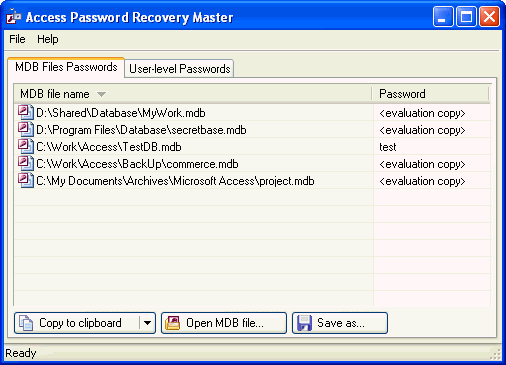 System requirements
Windows 9x, ME, NT 4.0, 2000, XP, 2003, Vista, Seven.

The program supports MS Access 97 / 2000 / XP / 2003.